INCREASE YOUR FRONT AND SIDE VISIBILITY IN 360° DEGREES!
Ensure your
SAFETY
and
PEACE
knowing you are
visible
from every possible angle. RAPID 360
is the world's first wheel reflector which combines outstanding aerodynamics with state-of-the-art reflection while being virtually weghtless and indestructible.
Eye-catching
RAPID fits every type of spokes like a glove.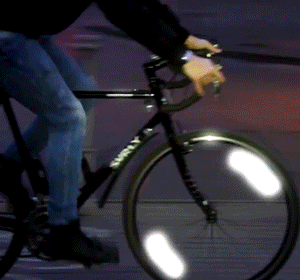 THIS IS THE FIRST LINE OF DEFENSE FOR YOUR NIGHT RIDE!

RAPID 360 emits non-static light patterns: Roatating, pulsating and moving light attracts special attention. From wherever car headlights are approaching, it grabs the driver's attention. All around, without exception.

RAPID 360 IS THE POWER PACKAGE FOR YOUR SAFETY!

💎360 degree visibility - Multi-direction reflection increases your safety.

💎NEW: One size design - Fits all standard spokes (1,8-2,3 mm diamete)

💎No air drag & no dynamic imbalance - RAPID 360 leaves your wheel's performance unaffected.

💎Custom reflective film technology - Unique 3D comformable film with reliable bond & dirt-repellend surface
💎Non-static light patterns - Rotating,

pulsing

and moving light grabs extra attention.
Mix several sets to get different effects